Exploring Algebra 1 with Fathom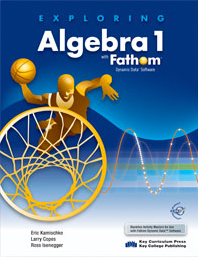 Buy on Amazon
Grades 8–10
by Eric Kamischke, Larry Copes, and Ross Isenegger
Exploring Algebra 1 with Fathom takes students through a visual learning experience that covers everything from linear to exponential functions
Dig into Algebra with Fathom Investigations
48 blackline master activities help students investigate patterns in mathematical relationships and real-world data.
Working with graphs and lines of fit, students deepen their understanding of slope.
Using sliders for parameters, students visualize and better understand families of linear, quadratic, and exponential functions.
Creating simulations, students expand their understanding of probability.
Building models for patterns in data, students appreciate the questions that algebra can help them answer.
Students build on pre-algebra topics, such as proportions and describing data, before exploring linear equations and exponential equations, solving inequalities and systems, transforming functions, investigating higher-degree polynomials, and simulating probability.
Includes:
Blackline activity masters organized by topic for easy matching with your curriculum
Extensive teacher's notes
Suggestions for homework and assessments
Detailed answers
Downloadable data sets, demonstration plots, and additional resources
Table of Contents (.pdf)
Sample Activity (.pdf)
If you've already purchased Exploring Algebra 1 with Fathom, download the accompanying Fathom files.